FOR THE ADMIRATION OF THE PUBLIC.
NANCY has a very personal silhouette, a little awkward under certain angles, but refreshing in its aesthetic radicalism.
The mechanics and the form came from the most interesting car of these last 15 years, namely the NSU Ro80 with rotary engine WANKEL with the too short career.
But maybe it was a temporary solution ; its creator indeed thought of a PORSCHE mechanics which would bring an extremely welcome addition of power, taking into account the fact that this rather imposing car 4,80 m in length and a width of 1,97 m and had a weighs of 1300 kilos.
Another interesting element of NANCY resides in the system vertical opening of its 4 doors, whose setting in motion does not fail to cause admiration of the public. The interior offers exceptional enough place for 5 people of medium size, who had 5 seats individually very accessible and the general completion appears without reproach.
SBARRO the Suisse car-designer seems to have participated or taken part by far in this realization, which would explain the quality of the general presentation of the vehicle. NANCY is condemned to finish its existence as a prototype in a museum .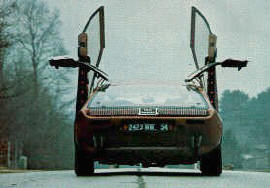 The Minister of industry and research has a certain dynamic approach in his actions for new opportunities. It would make the future of NANCY more possible by trying to convince French investors to grant finances for this project. Just as it is, it could indeed find its place on the market as a car of prestige and to compete with MERCEDES and BMW in France, still it is necessary that the French customers need to appreciate such a futuristic car and with an engine of a French manufacture.(Citroen-Birotor?)
A V6 power would be a better engine, but TONY RUSSEL could not afford seeing it installed under the hood of LA NANCY , and that is easy understood!
For the moment this attractive car is still at the stage of prototype TR 001. Who will have courage to finance the project and to show the way of glory to him ?